We're proud to provide an entire suite of child care solutions built specifically for California agencies and providers.
Our comprehensive California product offering, CARE by KinderSystems, backed by the highest security measures, can help you securely and efficiently manage child care resources and referrals, enroll families, track attendance, process provider payments, and more. KinderSystems' responsive development and support teams keep our customers up to date and compliant with California state reporting requirements necessary to maintain their contracts.
KinderSystems' California solutions are user-friendly and feature rich. When paired with our fully integrated suite of add-on modules built specifically for California, customers can be confident they're getting one of the most comprehensive products available in the market.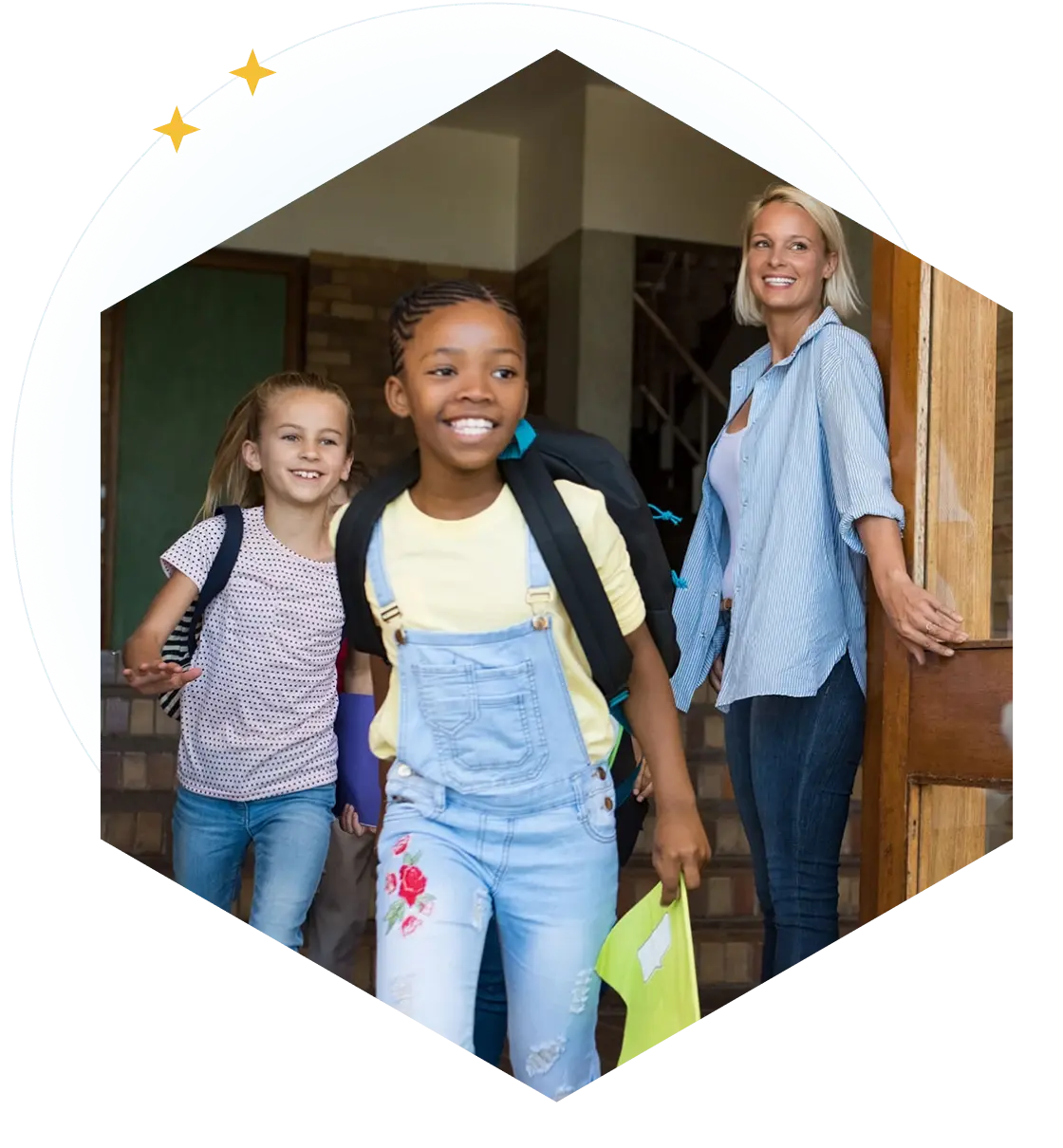 Meet the needs of agencies, providers, and families
Access to quality child care plays a critical role in California's workforce. Child care providers, many already struggling before COVID, continue to have difficulty finding and retaining staff. That makes finding and paying for child care difficult for California families. KinderSystems can help agencies, providers, and families bridge the gap.
With KinderSystems, California agencies can benefit from flexible, customizable solutions that meet their unique needs and integrate with the systems they already use to manage subsidies and human services contracts.
Evolving to better serve a wide range of California agencies
Since the 1990s, our leadership team has worked closely with California agencies, school districts, and child care organizations under the NOHO Software, Controltec, and KinderSystems names. Founded in San Diego, Controltec partnered with industry leaders to design the original KinderTrack solution, now used nationwide. NOHO partnered with the Child Care Resource Center in Los Angeles to develop the original CARE solution, now used by more than 140 customers in California. Today, the companies have become one, making KinderSystems the industry leader in California subsidized child care software.
We continue to help administrators, providers, and families manage state subsidies and meet California regulatory requirements through an integrated platform that:
Provides a cost-effective, secure solution for center-based, alternative payment, and full-cost programs.
Determines family eligibility.
Provides resources and referrals for providers and families.
Captures enrollment documentation electronically.
Collects time and attendance records through contactless sign-in.
Accurately and securely makes provider payments.
Facilitates state reporting requirements.
Allows families 24/7 access to their records and information.
Our agency has been using CARE by KinderSystems since 2008. When we switched, we went from doing a lot of manual case management tracking to letting CARE do the tracking for us—and the product just keeps getting better. The Family Dashboard is a great tool to view most of the family information in CARE, and it has quick links that let you see the information in greater detail. All of CARE's validation options and report filters allow us to customize and use the solution to fit our needs. CARE's online Eligibility List application has also been a huge time saver! Now we're able to help families determine eligibility and apply for child care programs more easily. Most important of all to us is the customer service KinderSystems provides. Without their knowledgeable customer service team, we couldn't meet the ever-growing requirements of our child care programs.
I've been working with our departments that use the CARE by KinderSystems, Resource and Referral, and e:List solutions for over 10 years. During that time, I've also worked with other software vendors, and there is a clear difference between their support and the level of support KinderSystems provides. Other vendors tend to stop providing direct support when an issue arises outside of their application. In contrast, KinderSystems provides support that is above and beyond their solution. Their support staff are professionals who never walk away from any problem you bring them. They know their product and provide quick and superb support. They've even helped me when my operating system knowledge was challenged, instead of referring me to the OS manufacturer. KinderSystems' technical support has always been the reason why I've been able to help my customers quickly and effectively. In addition to using their solutions, I always welcome the chance to work with the KinderSystems support team. You've all played an enormous part in helping us become successful in our mission, and we are grateful!
Child care subsidy eligibility, rules, and regulations are constantly changing—especially in California. We love that KinderSystems updates its platform in real time so that we can capture the right data and run the reports we need to remain compliant. The best part about KinderSystems is its people. Any time we need assistance, the KinderSystems team members are ready to help. They are extremely responsive, and I can always count on them for technical support and guidance.
Kinder Systems' commitment to delivering unparalleled customer service is why we have proudly partnered with them since 2011. The responsiveness and expertise of their CA Customer Support Team has never wavered; every team member brings a wealth of experience in the field—and they stay connected with all that's new, so our software needs are always met!
In 2009 our agency was in dire need for updated child care subsidy management software. After many hours of research, we found the perfect fit with KinderSystems. Since then, their team of experts have worked with us to meet our needs. KinderSystems provides us with a solid foundation. They not only assisted us in the implementation process, but they continue to help us make ongoing changes, as mandated by our funders. KinderSystems staff are experienced, readily available, and passionate about the work they do for us. We highly recommend this amazing software solution and the dedicated team that comes with it!
The best part about KinderSystems is its people. Any time I need assistance, KinderSystems team members are ready to help. They are extremely responsive, and I can always count on them for technical support and guidance. Because most of their team has worked in the child care subsidy sector, they understand the importance of the work we do, and they understand our software needs. Their customer support is incredible!
Why trust KinderSystems for child care subsidy management?
Our reliable software and team of industry experts help automate your workflow and stay subsidy-compliant — so you can spend more time making a difference in the lives of the children and families you serve.
Currently serve more than 240 California organizations.
Have decades of experience working in California. Our staff understands California because we've led and worked with numerous organizations.
Offer responsive, U.S.-based customer support throughout your contract.
Manage subsidies in the largest district in the state and the second largest district in the United States – Los Angeles Unified School District.
Equipped with a strong understanding of California reporting requirements, with the ability to quickly and accurately adapt to regulatory changes.
Host and maintain databases in the United States.
Systems built to meet FISMA, NIST 800-53 Rev. 5, and FERPA requirements.
Our system undergoes annual security audits (internally and third-party) – ensuring your data stays safe.
Most of all, we believe in listening to our customers. We don't sell you a solution – we partner with you and stand ready to help you achieve your goals.
We'll work with you to configure the solution that best meets your needs.
Explore KinderSystems solutions for California agencies.
Manage all of your funding sources from a comprehensive platform backed by advanced technology and run comprehensive reports aligned to California requirements.
Manage California Alternative Payment programs or center-based programs.
Calculate provider reimbursement and payments accurately and consistently.
Payments are calculated based on schedules, actual attendance, special needs, provider rates, regional market rates, and any other specific local regulations.
Offer secure check-in and check-out via tablets or smart phones, offering convenience to staff and families.
Conveniently apply for child care online.
Submit eligibility documents securely.
Wait List Management – Benefit from centralized eligibility and wait list handling.
Accurately track data for your state or the federal government.
Run reports targeting attendance, provider payments, and more.
Collect family and provider data, payment calculation information, funding sources, and more.
Benefit from centralized eligibility and wait list handling.
Reduce enrollment delays, manage family inquiries and subsidy eligibility